i used to despise reggaeton, and now i think i´ve just gotten used to it, cause if i said i didn´t like reggaeton i´d be a lying piece of oh shi--.
so, i give you the song that´s been stuck in my head for two days.
now, if you´re like me, this song should make you want to shake your flabby, flat, white ass and start humping the air while thrashing around wildly like a mad woman.
if you´re like me you´ll also wonder why the hell
le gusta la gasolina
.
um.
do not question the meaning behind reggaeton. or beware the wrath of the towel shaking puerto rican.
so in my last week in buenos aires i need to start getting my shopping done (so send in your special requests now or forever hold your peace), maté gourds, the 10 kg of yerba i´ve decided to take along with me instead of my clothes, and also... a new scar! a traditional indigen design, from catamarca, because ever since i discovered the frogs that look like cats on a painting I WISH I COULD STEAL AND HANG IN MY LIVING ROOM, i´ve fallen in love with the imagery. also because scars make me happy and are a nice way to mark my passage through argentina.
i´m going to suffer in bolivia cleaning it, but oh well.
this is the design: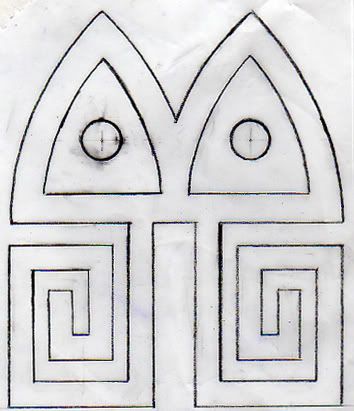 isn´t it hot?
now the question is: to eat a huge slab of provolone, or not?