well. a bunch of things.
the other day, after having spent some 8 hours
parchando
, no money in pockets. i got on the boat back to my island and sat down to write when a man named Montana came to sit and talk with me. finally he offered to go smoke a joint, and as i got up to follow i noticed a piece of paper on the ground. i picked it up.
"Cat
Buen viaje
Vaya con dios!"
inside the note was 10$ and 50 pesos.
O_o
no name. no idea where it came from. the american couple who had just left chabela's? christophe? the nice dutch lady from the boat who i spoke to the same day? it could have just been placed on my bag, which i had just manipulated, or could have been in there for a while. so strange, so cryptic, but welcome as i had only 7 pesos left, enough to take the boat back to mazatlan but not back to the island if i didn't make any money the next day.
yesterday i went to the marina and dropped off a note on the bulletin board announcing that a young girl with no sailing experience but mucho enthusiasm, very versatile and fast learning was looking to work, cooking or cleaning or any odd job, in exchange for a trip to central america.
today i got an email back! so i'm going to hop over there tomorrow and talk with the guy and see where he's going and if we get along.. as Scott pointed out, once you get on a boat, there's no getting off until you get to port.
i hope this works out. it would be so incredible to work my way to panama on a boat!
aaaaaaand, new living situation! and pictures!
mi hamaca is now installed on the roof of this very sweet man named John's house. i wake up every morning looking at this: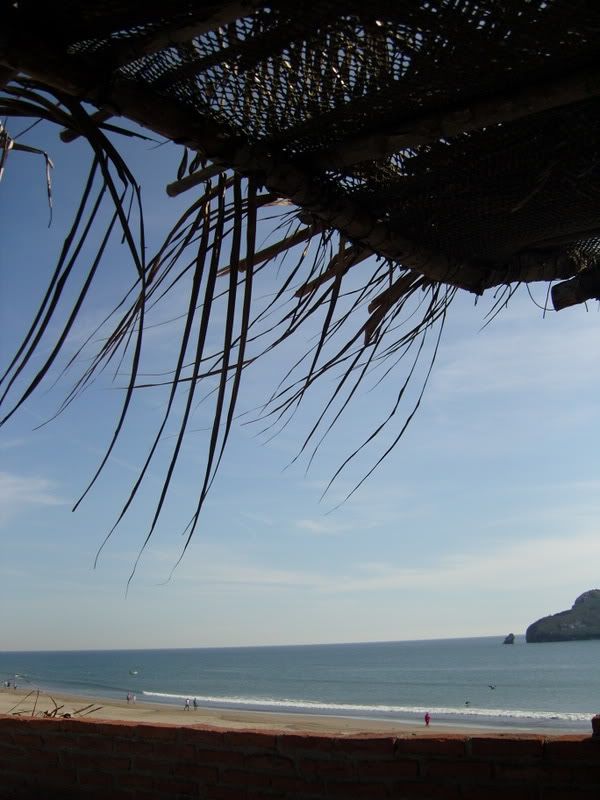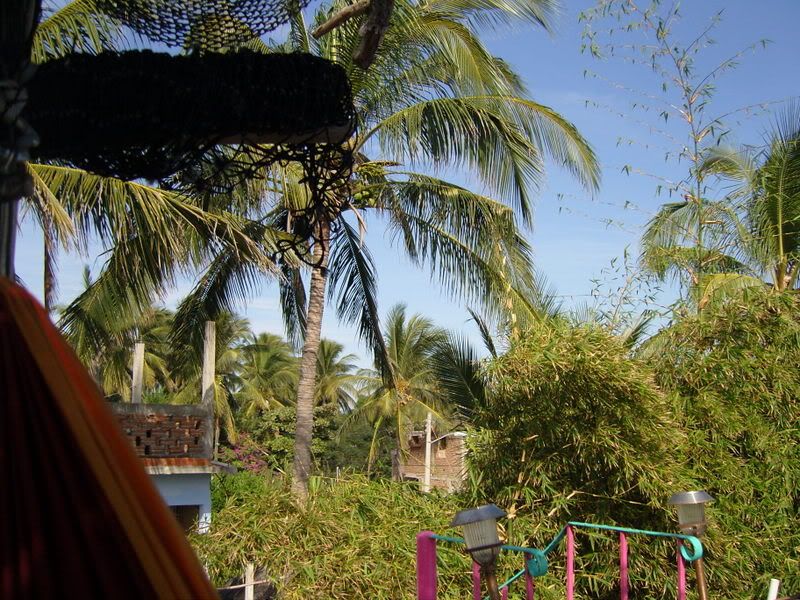 this is me waking up.
begin jealousy... now. hahah. personally i've been living on or around beaches for almost 2 months so now it's just same old, same old. i will admit that going to sleep and waking up listening to the sound of the waves is very nice, though, and it's great for the dog because he loves the water, the dead fish, and he can run to his little heart's content.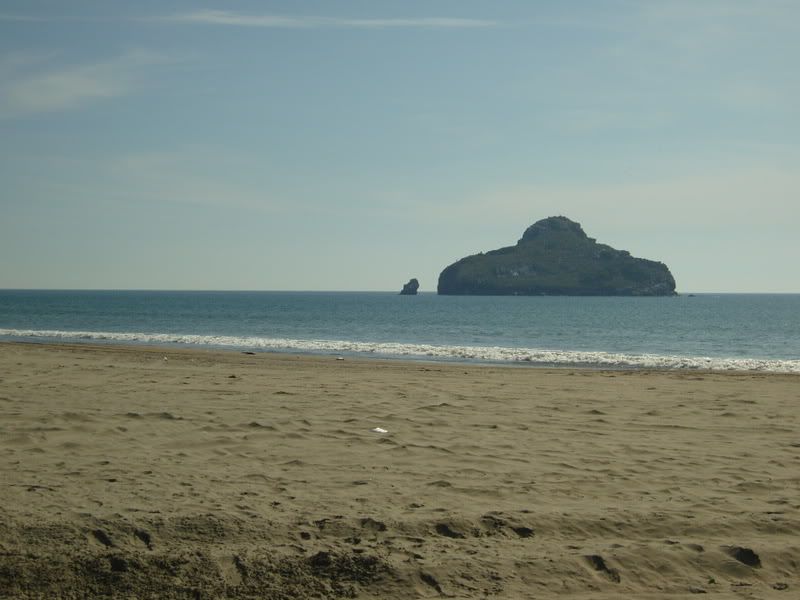 tiago likes beaches. what a lucky bolivian, most never see the beach.
look at how cute and big he is.
Now, pictures of the author, because it has indeed been a long time, hasn't it?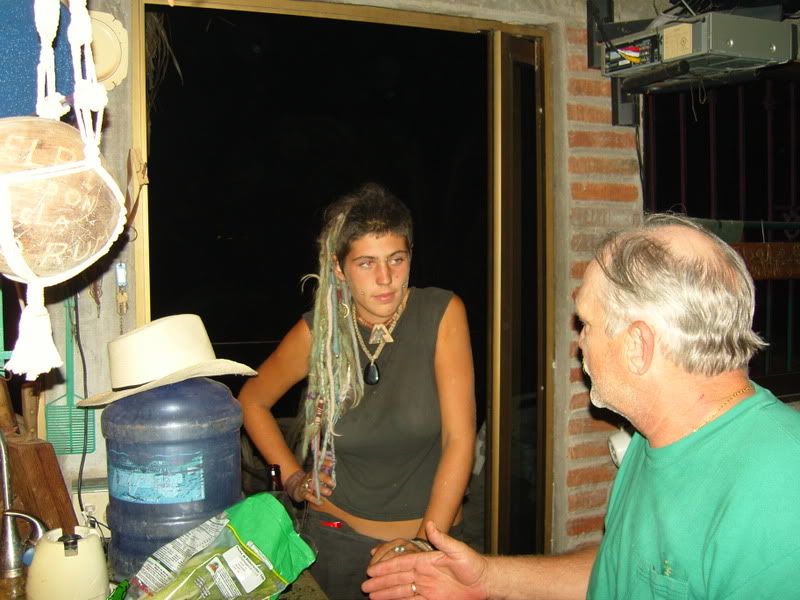 deep in conversation. hrm.
making jewlery in mulege, a few weeks back.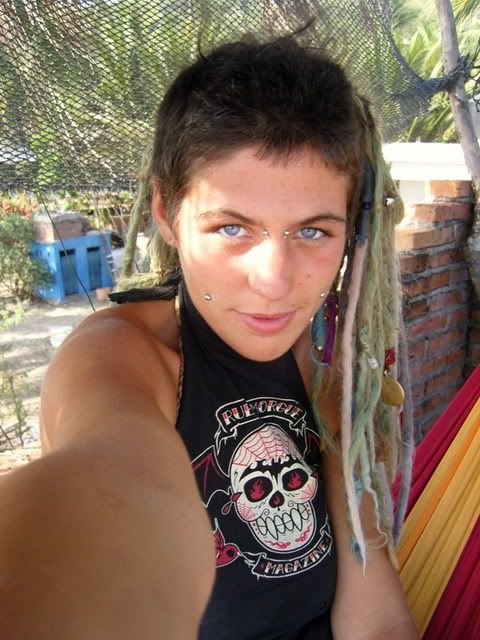 gratuitous myspace shot! nah i needed a good picture of my eyes for someone who asked for it.
a girl and her dog...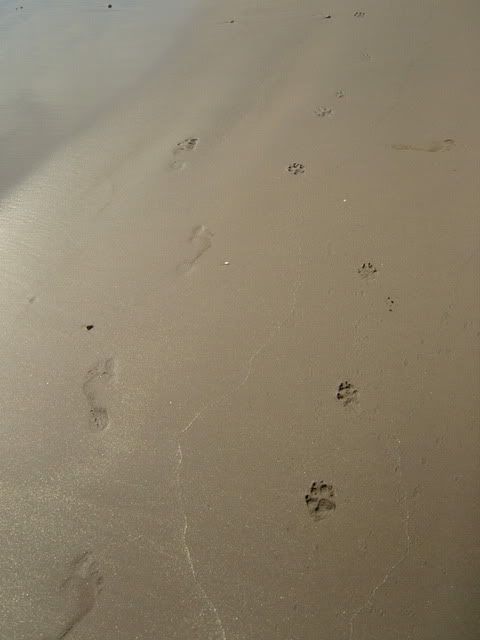 ... we wander together.
more when life gets exciting again. ie: having no stress. have no money, but have beer and lime, and can find fish on the beach. yay, fresh dead fish.